What Is a Shade Sail
A shade sail is a sheath of cloth used to shade large or small areas and is visually like the sail of a boat. A durable, slightly flexible fabric that is stretched over the exposed area and held tight by several anchors on nearby walls, buildings or poles. The result is shade from the sun, UV rays, bird droppings, and precipitation.
A patio sail is an ideal addition to large patios, decks, pool areas, and playgrounds. Shade sails are also popular with commercial spaces. Not only do they make seated areas more comfortable for patrons, but they can also draw attention to a space and attract clientele.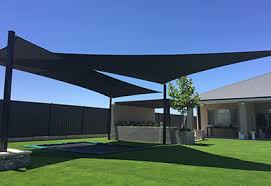 Inexpensive Solution
Shade sails are popular because they are an inexpensive and attractive, making them a great alternative. If the exposed area is simply too large for a patio umbrella or awning, a shade sail is a very cost-effective alternative, and while they are typically used as a permanent fixture, a patio sail can also be implemented seasonally.
A Variety Of Shapes & Sizes 
Shade sails come in many shapes, sizes and colours, and can be layered to cover unusually shaped areas and create an interesting architectural affect. If you are considering investing in a Custom Shade Sail we are more than happy to provide you a free measure and quote. Some things to consider when considering a Shade Sail Are:
Define the area you would like to be shaded, keep in mind the height, the direction of the sun in both winter and summer months, the size of the Shade Sail that maybe required. Remembering that your shade sail will need to be installed at an angle to allow water run off.
Shade Sales also come in a variety of colours, it is important to choose a colour that complements the area top be shaded. As a guide very bright colours are the perfect choice for, schools, playgrounds etc. White and Beige are a great choice for a modern home entertainment area. Above all the colour of your Shade Sail is a very personal choice and we can guide you in the right direction.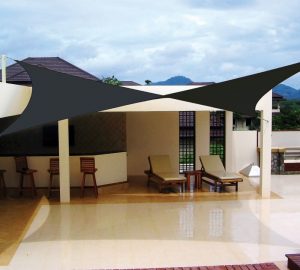 The Professionals
Custom Shade Sails Wa are the experts in there field and have many years of experience within the home improvement field. We are only to happy to provide you with tips and advice in the design and construction of your Shade Sail. We offer free measure and quotes and all work is fully guaranteed.
To book your free measure and quote please click here, you can also follow us on Facebook.